Lake Tahoe Nevada State Park
Spooner Lake & Backcountry is situated in the Lake Tahoe Basin and offers vast recreational opportunities and an expansive 12,000-acre forested open space. This park features 50 miles of pedestrian, equestrian, and mountain biking trailheads. 
The most popular backcountry trail leads to Marlette Lake via North Canyon Road, boasting a 4-mile hiking and equestrian trail running parallel. Several trails wind through this beautiful wooded area. 
Fishing is a favorite local pastime, so be sure to grab a Nevada fishing license before baiting the hook. 
If you're looking for a fun-filled weekend of hiking, fishing, hunting, cross country skiing, and more, opt for a cabin rental where you'll have access to all of these natural exploits at your fingertips. Explore the 500 miles of Nevada landmarks through the American Discovery Trail, try your hand at cross-country skiing, or simply revel in nature's beauty at Spooner Lake & Backcountry.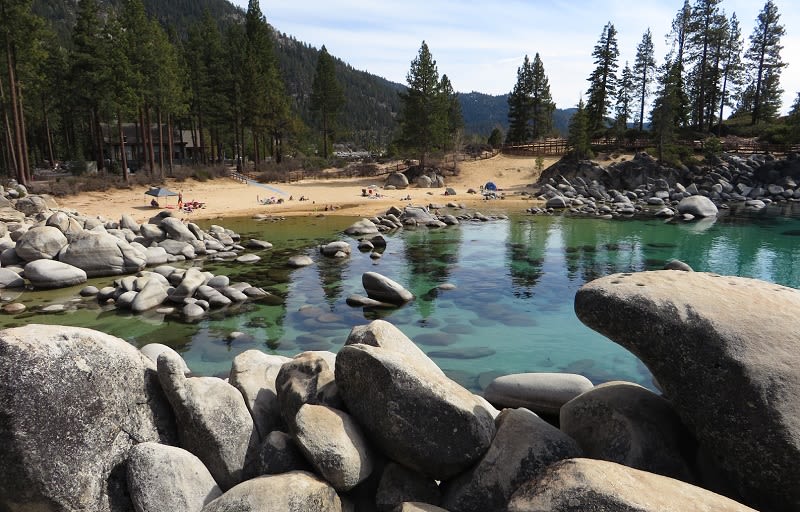 Sand Harbor is located on the eastern shore of Lake Tahoe, boasting a pristine, sparkling beach and fascinating rock formations. Head to Sand Harbor for a delightful day of swimming, kayaking, or scuba diving. The park has two ramps where anglers, water skiers, and boaters can launch into the serene lake. 

Once you've had a full day of water sports and fishing, nosh on a picnic in the shade of cedars and Jeffrey pines at one of the many picnic sites equipped with barbecues and tables. When you're finished enjoying your picnic, head to the Memorial Point Trail for a short yet stunning hike, leading you to several secluded beaches and bouldered areas. This gem is definitely worth your time.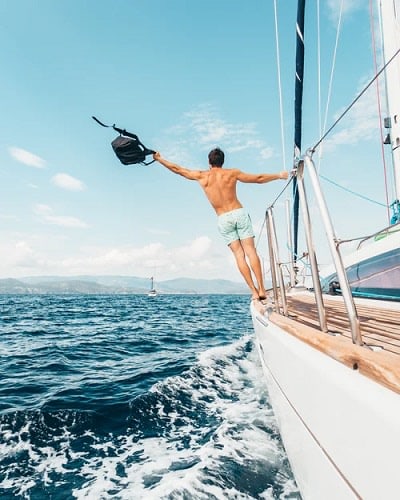 Lake Tahoe Nevada State Park is brimming with exciting activities just waiting for you to explore. Be sure to stop by during the summer to experience the entertaining Lake Tahoe Shakespeare Festival. Given the broad range of opportunities for boating, hiking, swimming, scuba diving, winter activities, and more, this state park is a glimmering treasure among the Incline Village community and is undoubtedly a must-visit. 
Action Water Sports
Do you prefer an exhilarating water sport or a luxurious yacht experience? Look no further than Action Water Sports of Incline Village. This rental company has been serving Incline Village since 1996, providing clients with an entire fleet of ski boats, cruising boats, and luxury yachts fit for thrill-seekers and leisure lovers. 

Being Lake Tahoe's premier parasail operator, AWS provides guests with the most invigorating and safe experience around, taking you up 800 feet to view the breathtaking Lake Tahoe in a way you haven't imagined possible. Passengers can opt for a solo, tandem, or triple-person ride. Jet skis hold two passengers and are an excellent way for the whole family to enjoy an adrenaline rush on the lake. AWS specializes in instructing folks of all ages and skill levels in wake surfing, wakeboarding, and waterskiing, so don't fret if you're a beginner who wants to try your hand at these exciting water sports.

Boat rentals vary per your motives and include crafts fit for cruising, waterskiing, wake surfing, and tubing. For those who prefer the finer things in life and seek a tranquil trip, luxury yacht charters are readily available for your next intimate outing or private shindig. Whether you seek a relaxing yacht trip or a vigorous day out on the lake, Action Water Sports has everything you need for a full, fun day of outdoor recreation. 
Tahoe Multisport
If you love all things nature and require endless options for outdoor excursions, stop by Tahoe Multisport. Enjoy all things land and lake via the plethora of sports equipment rental options. Spend the day out on Lake Tahoe with a stand-up paddleboard (SUP), single kayak, or double kayak rental. You'll gently glide along the crystal blue waters, soaking up nature's tranquility while getting a full-body workout simultaneously. 

For the adventurer in you, rent a mountain or road bike and tour through rocky canyons and mountainsides. If you're a novice cyclist, opt for a guided road bike lake tour to ensure you have a safe and fun excursion. Relish an exciting day of skiing the slopes with a backcountry ski rental, also available to children! Whether you wish to procure a guided SUP, ski, or kayak tour, or brave the lake yourself, you'll undoubtedly have an exciting day in the great outdoors with the help of Tahoe Multisport.
Vista Trail Bikes
Take in the breathtaking views of Lake Tahoe with a bicycle ride along the coast with Vista Trail Bikes. This company provides self-guided bike tours and rentals. Choose between a top-tier electric bike or a classic comfort cruiser — there are kids' bikes available, too! Vista Trail Bikes provides bicycles with your comfort in mind, featuring comfy seats, multiple speeds, and ergonomic handlebars so that you'll enjoy sightseeing and cruising for hours on end. 

Opt for an electric bike if you're ready for a good workout but enjoy having the option to motor your way around if you get tired. For a more challenging tour, stick to a cruiser to get your legs working while you take in the remarkable mountain vistas and lake views. Take your rental through one of the best trails in Tahoe, Tahoe East Shore Trail, ending at Sand Harbor. Head out for a fun day of riding and panoramic sights, stop by Tunnel Creek Cafe on your way back from Sand Harbor, and make lasting memories of Lake Tahoe's wonders with Vista Trail Bikes.
Incline Village Parks
Incline Village has several parks and fields for enjoying both active and leisurely pastimes. Village Green is located next to the Hyatt Regency Lake Tahoe and is perfect for a relaxing picnic on the expansive soft grassy area. The park provides a multi-use sports field fit for lively games of soccer, frisbee, or football. Enjoy a lovely jog along the trail and creek around the park's perimeter, all while winding through towering Aspen trees.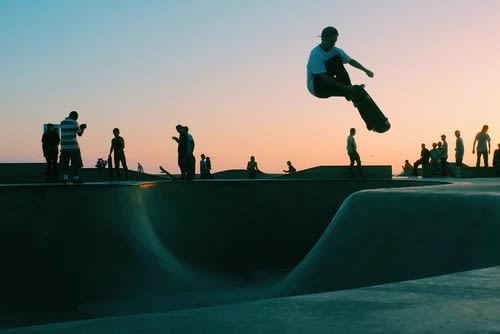 Sports lovers are well taken care of in Incline Village. Preston Field and Incline Park provide pristine grassy fields ideal for softball and baseball enthusiasts. Be sure to call ahead and reserve your spot at Incline Park. Head to the free Incline Skate Park, situated adjacent to the park's ball fields. Regardless of your skating or skateboarding skill levels, you'll undoubtedly have a fun time doing ollies or simply cruising around. Many of these facilities are open for private groups, so check out available rentals for your next company softball game or kid's birthday bash. 


Those who enjoy more eclectic sports have several options for getting active in exciting ways. The North Tahoe Lions Club Disc Golf Course course consists of 18 par 3-holes, providing a fun and challenging experience for disc golfers. Located within the stunning Incline Park, you are surrounded by lush trees and flora while you aim your shots. 

Head to the Bocce Ball Park for a few rounds of the well-loved bocce ball, also known as lawn bowling. This unique Italian ball game is widely played worldwide, and this park teeming with fresh air and colossal trees is a prime spot to play. Whichever destination you choose in Incline Park, you're bound to have a fun day reveling in the great outdoors.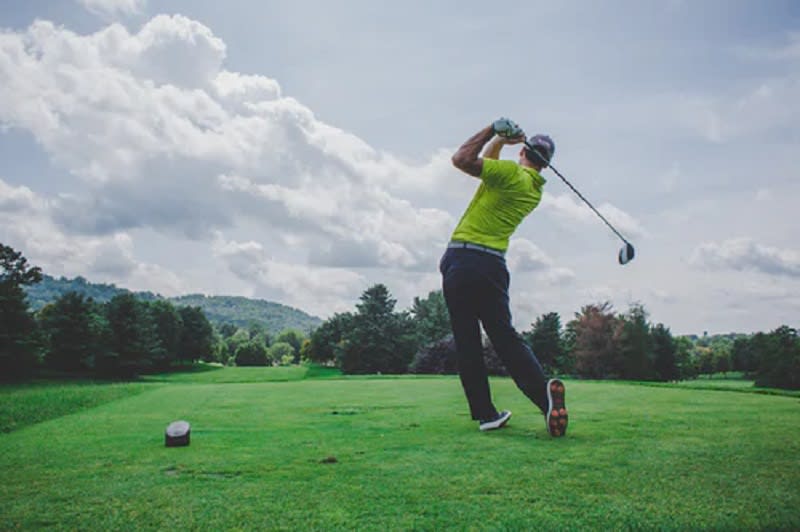 Incline Village Mountain Golf Course
Get out on the green from spring to mid-fall at Incline Village Mountain Golf Course. This course is nestled amongst panoramic mountain views filled with mature trees and elevation changes. This establishment boasts the highest elevation course in the state of Nevada. Tee times are easy to achieve — just give them a call or schedule a reservation online. Stay awhile and enjoy the Mountain Course's many amenities, including large practice green, hitting net, new golf carts, and a newly upgraded deck and clubhouse serving food and drinks. What could be better than luxuriating in a day outdoors with some friends, breathing fresh mountain air, and working on reducing your stroke count? 

Beaches
There are four different beaches accessible to Incline Village residents. Burnt Cedar is a perfect family-friendly destination featuring a toddler pool, a quaint sandy beach with a protected swimming cove, an extensive grassy range with benches, a playground, and several barbeques and picnic areas. 

If you're looking for a great spot to swim and get a great tan, head to the sandy Incline Beach, boasting picnic areas, grills, a playground, and a snack bar for seaside treats. Ski Beach provides visitors with a boat launching facility, picnic tables, a bocce ball court, and a volleyball court. The lush grass and shady trees are ideal for a stroll along this beach. Reflection and relaxation are easily achieved at Hermit Beach, a small waterfront locale on the east side of Incline Creek. Given the various beach options, you're sure to find one that suits your waterfront wishes and needs.

Given the array of incredible scenery and activities available to Lake Tahoe visitors and locals alike, you'll fall in love with Incline Village in no time. Once you're enthralled by this charming town and further seek homes for sale in Incline Village, Nevada, reach out to realtor Lexi Cerretti. Lexi is the No. 1 sales agent for Reno-Lake Tahoe, and her experience and knowledge will lead you to the luxury property of your dreams in Lake Tahoe, Incline Village, or one of the exceptional surrounding communities she services.