If you have been considering selling your Lake Tahoe real estate lakefront or simply want to increase the value of your home beyond its normal appreciation, now might be the time to start considering some remodeling projects.
Some remodeling projects can be major, such as adding a room to increase your square footage or building a new boat dock to better enjoy the Lake Tahoe lifestyle. Some projects can be of the do-it-yourself variety, such as replacing fixtures and appliances or painting the walls. You might even consider remodeling if you plan to rent out your luxury lakefront home when you're out of town or if it's your second home and you can lease it out for long stretches to bring in a good income.
Before you get started, do plenty of research about what projects are best for Lake Tahoe lakefront homes for sale and set a budget.
Be realistic about your home needs and what you want, and plan accordingly. The last thing you want to do is wade into a
remodeling project
and then run out of money or have a cash flow problem that will delay the completion of the work.
Keep in mind that contractors may be booked out for several weeks or even months and that labor and materials could still be in short supply. Also, prices have risen for materials and labor, so keep that in mind as you plan your projects.
Find an experienced real estate agent
If you do have plans to list your Lake Tahoe real estate lakefront property either now or in the near future, get a jump on it by hiring a great real estate agent. Look for an agent who has spent several years helping sellers and buyers in the Lake Tahoe area, whether it's South Lake Tahoe, Tahoe City, or Incline Village.
An experienced agent is a great resource because he or she knows what remodeling projects and amenities will not only help you sell your home quicker, but will also add value in the form of return on investment, or ROI.
Research agents online and then interview a handful of candidates. When you sit down with them in person, have them describe their recent successes in selling and buying Incline Village Lake Tahoe real estate, particularly since the pandemic hit and totally changed the dynamic of the market. Prices have risen dramatically as people have moved to the area to enjoy spacious, luxurious homes set amid natural beauty.
Once you've decided which agent to hire, you can set a timeline for completing remodeling
projects
and listing your home for sale.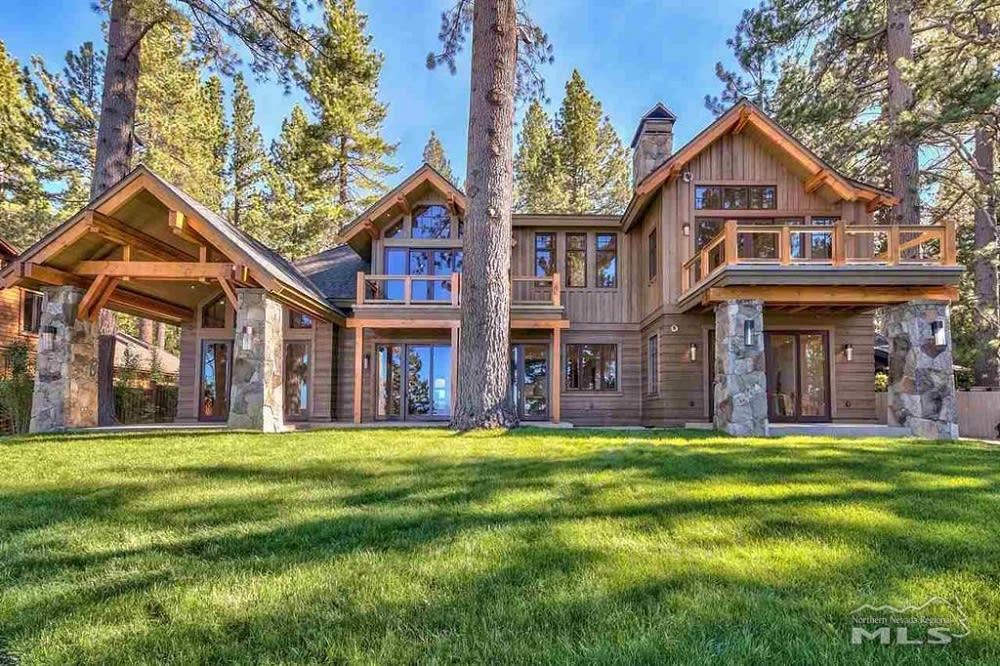 Understand the housing market
According to Zillow, the median price of homes in South Lake Tahoe is $669,559, an increase of 45.7% during the past year. In Incline Village, the median price jumps to $1,385,774, a rise of 39.6% in the last year.

The median home price means half the properties sold for less than that figure and half sold for more. Naturally, many luxury homes on Lake Tahoe sell for well above the median price.
Remodeling dos and don'ts
The main reason people buy Lake Tahoe real estate lakefront is because of the fantastic setting on one of the most gorgeous lakes in the world, where residents can enjoy outdoor recreation year-round.

The greatest use of your lakefront home will come during the warm summer months when you can go boating, swimming, water skiing, and fishing and enjoy cocktails and dinner on the deck.


Outdoor projects for Lake Tahoe homes:
Build a dock, whether it's fixed or floating, that is large enough to accommodate your boat. This is probably the No. 1 activity for owners of lakefront real estate. You might even add a boathouse where you can store your boat and equipment during the winter and a boat lift.



Build or expand a deck. If your home doesn't have a deck, this is an addition that can be enjoyed the entire time you own the property. You can literally enjoy a deck from sun up until well past sunset, whether it's soaking up rays in a chaise lounge or having dinner with family and friends. You will probably spend many relaxing hours watching the breathtaking sunsets. If there's room for an outdoor kitchen or a large barbecue grill, that will include value as well.



Reroof. One of the biggest remodeling projects you might undertake at Lake Tahoe lakefront homes for sale is also one that will return the most return on investment. According to the National Association of Realtors'

Remodeling Impact Report

, a new roof will return 107% of the cost. Not only does a new roof improve the look of your home, but it helps protect the entire structure in an area that experiences extreme temperature changes and snowfall during the course of a year.

Replace siding. This is another project that has good ROI. Like a reroof, replacing the siding is good for both aesthetics, saving money on utility bills and protecting the home from the elements such as water and wind. Pick materials and colors that fit in with the aesthetic of lakefront homes that are nestled among pine trees.

Other dos:
Hire a reputable contractor to do the work on your Lake Tahoe lakefront real estate. Get several bids on big projects from contractors and then check their references. The longer they've been in business in the Lake Tahoe area, the better their reputation probably is.


Remodeling don'ts
Don't think that you can save money by buying materials for remodeling projects on your own. Contractors usually get a good price when they order materials from wholesalers and can have them delivered right to your home.



Don't get in the way. When contractors and craftsmen are on the job, the last thing they need is you getting in the way or making suggestions.
These are just some starting points for remodeling Lake Tahoe lakefront homes for sale.


If you plan to buy or sell Lake Tahoe lakefront real estate in 2021, contact
Lexi Cerretti
to see how she can put her extensive experience to work for you.