Situated in the Sierra Nevadas on the state line between California and Nevada is the freshwater Lake Tahoe. While the lake draws its own attention for the clarity of the water, the surrounding areas, which carry the same name, draw people to the area for outdoor recreation year-round.


While the activities will vary by the season, there are some Lake Tahoe locations you'll want to visit time and time again: the local breweries. Each of these can't-miss breweries carries their own unique recipes on tap for that perfect refreshing sip, regardless of your personal taste.
1. Sidellis Lake Tahoe Brewery and Restaurant
Chris Sidell and husband Ellwood Ellis wanted to level up their home brewing, and after Chris graduated from the University of California Davis in 2015, the couple decided it was time. They settled on a microbrewery. A combination of their names,
Sidellis
, adorned their new Sandy Way location on the South of Lake Tahoe.
Upon joining the staff, brewer Steve Canali began brewing up year-round favorites such as Petey's Porter and Clockwork White, a wheat beer with hints of coriander and orange. Order your favorite snacks, appetizers, sandwiches and salads from the kitchen and build a sample flight to find the ideal complement to your meal.


If a barrel-aged brew isn't your drink of choice, wine and cider accompany Sidellis' year-round and seasonal offerings. Sample the seasonal Mangonero White, a spin on the popular Clockwork White (they add mango and habanero!) and the Tahoe Together IPA, created in cooperation with South Lake Brewing, Cold Water Brewery and South of North Brewery. Visit the location Wednesday through Sunday from noon until 9 PM.
2. South Lake Brewing Company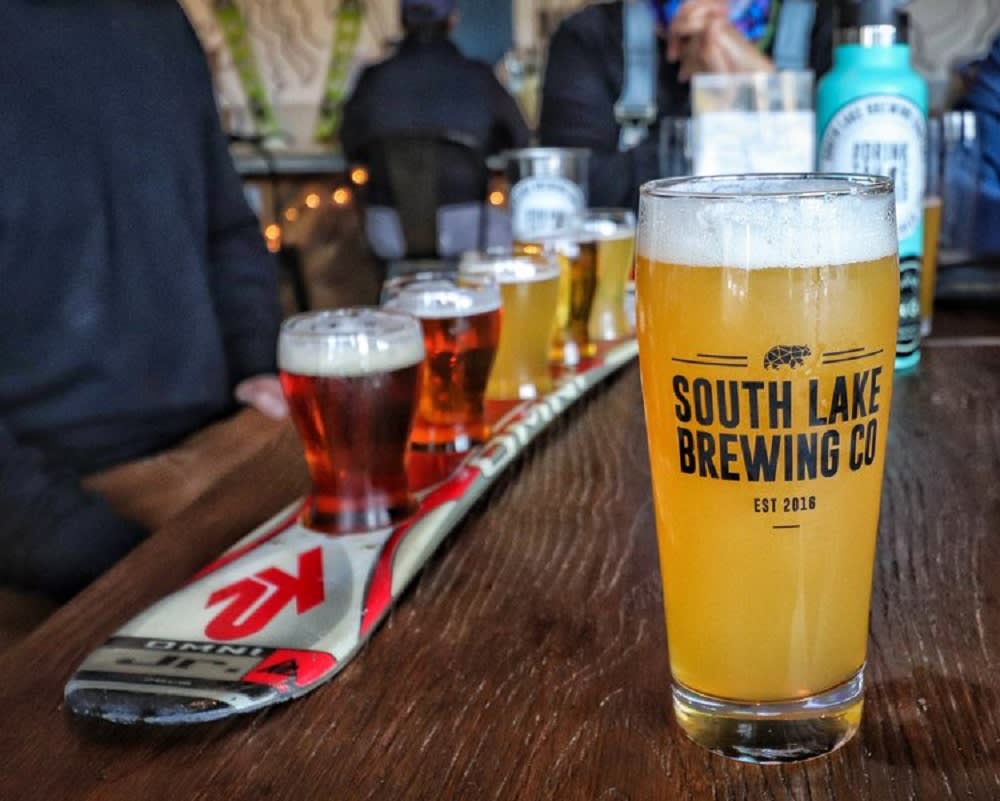 The largest craft brewery on the South Shore of the lake was founded by Chris and Nicole, whose passion for Lake Tahoe was an inspiration when they decided they wanted to open up a brewery. After years of planning, they opened the doors to
South Lake Brewing Company
on Lake Tahoe Boulevard in April of 2017.
All of their beers are brewed on site, ensuring the customer receives the brew as intended. With up to 16 beers on tap, there's bound to be a drink selection to whet your whistle. Current offerings include the increasingly popular Pontoon Party Hard Seltzer, Haribro Pale Ale and Fog Nozzle IPA. The seating is first come, first served for their indoor tasting room, front patio and beer garden, which are open daily from noon until 9 PM.
Don't stress about finding a babysitter — South Lake is family- and dog-friendly. Enjoy your preferred ale with live music in the beer garden on Fridays and Saturdays during the summer. Complement your brew with a bite to eat from one of the rotating food truck vendors, including the Big Bertha Food Truck, Get Rad Pizza and Sombrero's Mexican Food Truck.
3. Cold Water Brewery and Grill
Also found on Lake Tahoe Boulevard is the
Cold Water Brewery and Grill
, an all-grain brewing operation that crafts each recipe by hand on site. The seven-barrel brewhouse produces up to 200 gallons of beer per batch.
Visit daily from 11:30 AM through 8 PM to sample a number of ales brewed by Cold Water's brewmaster, Ryan. Though his brewing roots began with his father, Ryan has been brewing on his own for over 15 years and brewing commercially for seven, using each year and each batch to improve his technique.
The craft beer menu at Cold Water features a variety of flavors and alcohol by volume (ABV) levels. Sample a little of everything, from the lower-ABV Good Karma Cream Ale (4.7% ABV) to the medium Never the Same Session IPA (a rotating series) to the higher ABV Freel Good IPA, (6.7% ABV) which has notes of citrus, mango and passionfruit layered over a strong malt backbone.
Don't drink on an empty stomach — order one of the available seasonal menu items from the scratch kitchen and enjoy your meal either inside or outside on the patio. Appetizers, sandwiches, comfort foods, fork and knife plates, desserts and garden fresh options such as watermelon panzanella (with arugula, watermelon, pistachio, whipped goat cheese and mojito dressing on crostini) comprise the menu's offerings.
4. Alibi Ale Works Brewery and Barrel House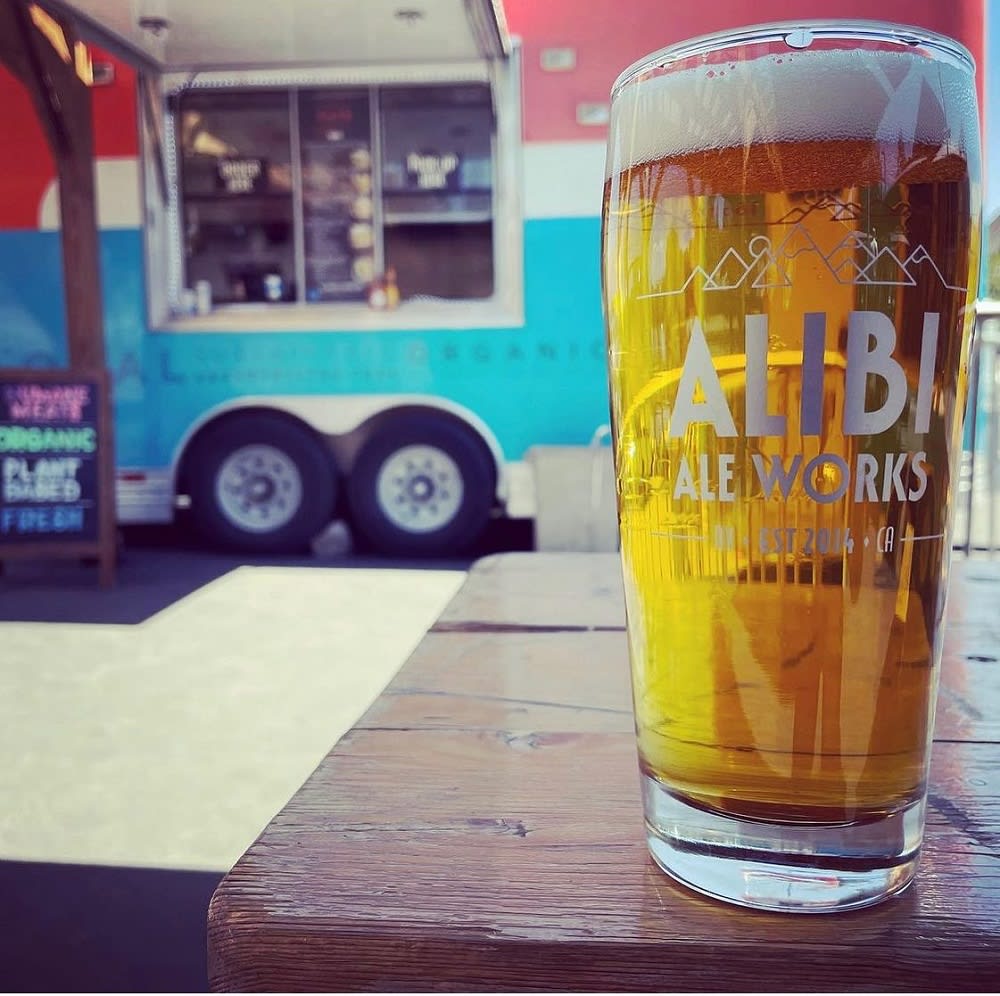 On the Nevada North shore of Lake Tahoe is the flagship location of
Alibi Ale Works Brewery and Barrel House
. You can't bring your dog, but you're welcome to bring your own food, since there isn't a kitchen on site. Wines, ciders and kombuchas can be found on the drink menu, accompanying both core and limited edition beer selections, which often offer reduced gluten content while still maintaining flavor.
For a traditional brew, try one of their core selections. A kolsch, pale ale or porter are all great choices, as is the popular Chance of Clouds Hazy IPA. All the beers are made with 100 percent Lake Tahoe water, including the limited edition Contradiction brew. Milk sugar, fresh roasted coffee beans, cocoa nibs and vanilla flavor what appears to be a pale ale, though the Golden Mocha ale actually drinks more like a stout.
"Barrel House" isn't just a name at Alibi — they offer a variety of barrel-aged options, including the Bourbon BA Imperial Stout, Ascension 2020, which offers a high 9.5% ABV, and Strawberry Crescendo, a sour ale with strawberries. Stop by any day of the week and build your own flight for a sampling of all your (new) favorite brews!
5. FiftyFifty Brewing Company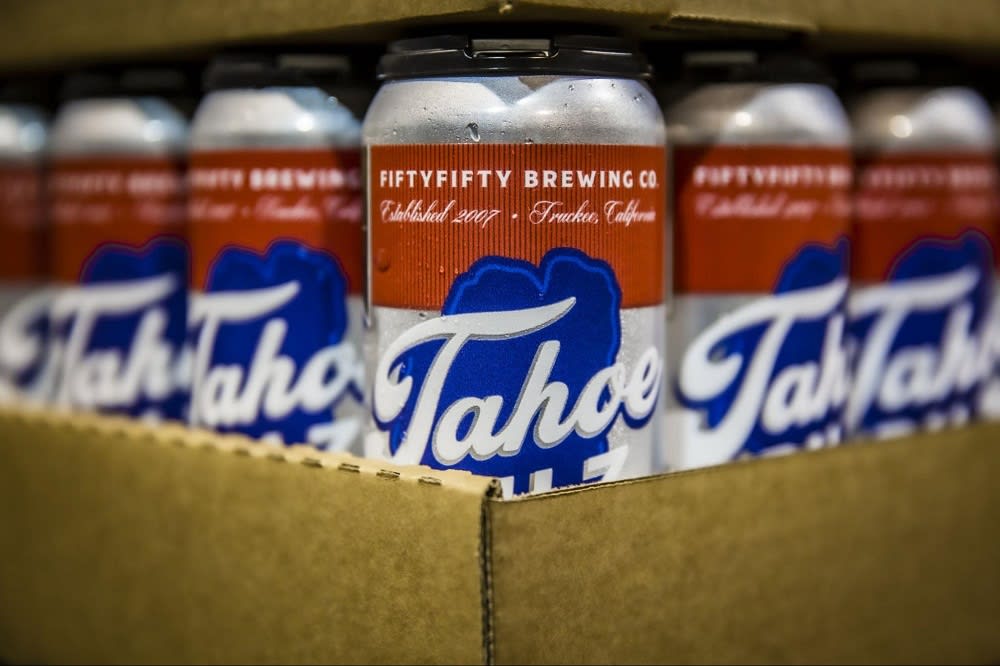 On Brockway Road in Truckee is a brewery that has really made a name for themselves:
FiftyFifty Brewing Company
. Owners Alicia and Andrew Barr founded FiftyFifty in 2006, and for 10 years, they've sourced everything themselves, including their hops, water and cans.
However, the standout in their product line continues to be their ever-exclusive barrel-aged Eclipse beers, which they release at an annual event. Each Eclipse selection begins with their Totality Imperial Stout and is then aged in a variety of whiskey barrels (sourced from the best distilleries in the world) for three to 12 months, blended and bottled. Finally, the tops are sealed with wax to preserve the beer's freshness.
Though the original Eclipse recipe was developed by the founding brewer, the current head brewer, Brian McGillivray, has updated it to suit his style. Brian brews up core selections, including the Tahoe Pilz and the California Pale Ale, and seasonal offerings such as the Storm Chaser Lager, a collaboration benefitting Protect Our Winters. The brewery is open daily for dine in and take-out starting at 11 AM.
6. Good Wolf Brewing
Nestled in the Tahoe National Forest is a unique craft brewery specializing in hop-forward and forest beers: the
Good Wolf Brewing Company
. Owners Matt and Heidi Petyo were inspired by their exploration of the region's natural surroundings and founded the brewery in 2019 as a means to showcase and share their appreciation for the region.
This intention is evident from the moment you step through the front door at Good Wolf. The earthy color palette and the plethora of ferns, vines and moss hanging from the ceiling and walls effectively brings the outdoors in. Good Wolf has mastered the art of bottling the forest with their brews, both literally and figuratively. Guests can find beers containing forest-foraged ingredients, including pine needles, blue juniper berries, elderflowers and mushrooms. Since every recipe is made in small batches, the beer offerings are rotating all the time.
Stop by their Truckee location on Industrial Way Tuesday through Sunday and sample one or two of their current offerings: the Cold Fox Cold IPA and the Left Hand of Darkness Imperial Stout, which uses three malt varieties and carries the flavors of milk chocolate, burnt caramel and a delicate coffee roast.
You don't have to live on the shores of Lake Tahoe to appreciate everything the local craft brewing scene has to offer. Many who visit the area come from nearby towns and communities within an hour's drive from the lake. If you're considering moving to the area, it's worthwhile to consider searching the available homes for sale in Sparks, Nevada or even houses for sale in South Reno.
If spending your time bent over real estate ads isn't your cup of tea, consider contacting a real estate agent like
Lexi Cerretti
who is familiar with the territory today.